Treat yourself to a Tantric Massage & Take away Intimacy Tips
by Liberty Storm
A Tantric full-body sensual massage is a wonderful act of self-care. Let go of mental stress and float into bodily pleasure and an ecstatic energy state! But perhaps gents, you can have your cake and eat it too! Let me explain, many of my clients report the additional benefit of learning-through-receiving. In other words, they experience how good Tantric touch feels, then bring that approach back home to their partner.
Here are 5 Tantric Intimacy Tips to take home :
Set the Stage
The atmosphere around us greatly effects our emotions and with a little planning you can turn your bedroom into a Temple of sensuality. Enhance your space to awaken your lover's senses: with soft lighting, naturally-scented candles (rose, ylang-ylang and cinnamon are my favorites) and low volume chill-out music. Make the bed with fresh cotton sheets or a fluffy washable throw. Also be mindful of temperature control—so that naturism is comfortable. You could always invite your partner to help in this ritual to co-create your Temple of sensuality!


Tantric Mindset
Set aside quality-time for Tantric intimacy so that you can enjoy the moment, rather than chasing a quick release. Bring in soft focus eye-contact to connect with your lover on a deeper level. Luxuriate in your sexual sensations and ride the waves of pleasure together.

Flow Sensual to Nurturing Strokes
Honor your lover's body with a combination of slow teasing finger-pad strokes and grounded nurturing massage. A light dusting of talc allows the fingers to slide smoothly across the skin. Then use a natural oil such as coconut or joboba for the sensual massage. Even a ten minute shoulder rub will be greatly appreciated by your lover. Check in with her about her preferred pressure and speed of stroke.
Breathe Energy Waves
Deep breathing aids relaxation and allows the body to release tension and open up to sensual touch. In Tantra, we also believe it encourages the circulation of the sexual (life-force) energy and helps men to prolong their excitement and last longer in sex—always a good thing!
Full-Body, Multi-Dimensional experience
Tantric bodywork is specially designed to be a full-body and multi-dimensional experience i.e. produces healing benefits on a physical, emotional and spiritual level. Explore your lover's lady-scape, especially her secondary erogenous zones. You might try soft kisses on her neck, nibbling her ear lobes, sensually stroking her lower back and bottom cheeks, rubbing her feet or gently scratching through her scalp and hair. Then bring the focus to her primary erogenous zones: breasts and sex center: clit (pearl) and G spot (Goddess spot ) and anal rose if desired. Tantric intimacy is an exploration of pleasure and energy. Be open-minded and playful!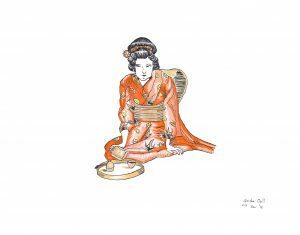 Neo-Tantra, like Yoga asana is a highly experiential spiritual path, i.e. you've got to physically practice it, to access it's power and potential in your life. So I recommend you begin by checking out Sacred Eros listings to find a tantrika in your area. Or you can read more about Tantric massage in my book "Adventures of Tantra Girl". 
With Love  
Liberty Storm 
Website & Book Trailer :
Twitter: www.twitter.com/mslibertystorm